healthcare Total Parenteral Bag
You might also concern, Urine Bag, drainage bag, silicone negative close system, silicone evacuator drain wound, blood collection vaccumed tubes, transport swabs, TPN bags, medical consumables, surgical devices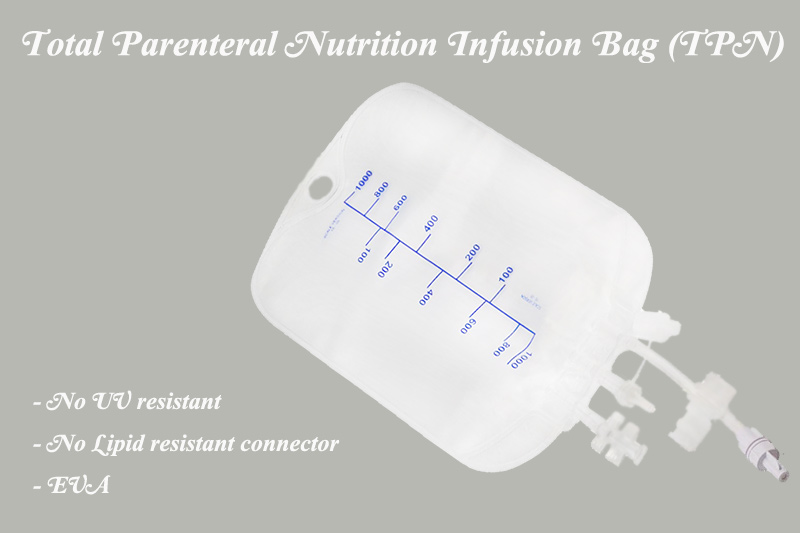 What is TPN bag?
total parenteral nutrition bag is a feeding device of nutritional to a person intravenously, bypassing the usual process of eating and digestion. The products are made by pharmaceutical compounding companies. The person receives a nutritional formulae that contain nutrients including glucose, salts, amino acids, lipids and added vitamins and dietary minerals. It is called total parenteral nutrition (TPN) or total nutrient admixture (TNA) when no significant nutrition is obtained by other routes.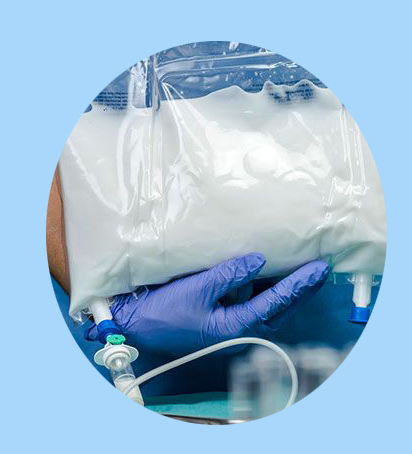 Who needs TPN bag?
Those who can not feed through gastrointestinal tract, such as esophageal fistula, intestinal fistula, gastrointestinal malformation, etc.
Gastrointestinal tract is severely injured, serious inflammation, etc.
Gastrointestinal function damage, such as ulcerative colitis, gastrointestinal bleeding, etc.
There are risks of ingestion through gastrointestinal tract, such as tracheoesophagal fistula, incomplete laryngeal closure, etc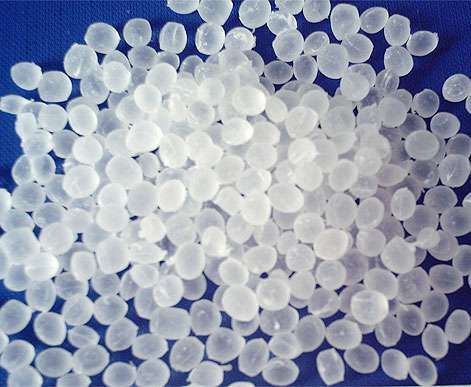 Material
Medical Grade EVA material. Ethylene-vinyl acetate (EVA), also known as poly, is the copolymer of ethylene and vinyl acetate. The weight percent of vinyl acetate usually varies from 10 to 40%, with the remainder being ethylene. There are three different types of EVA copolymer, which differ in the vinyl acetate content and the way the materials are used. It is an extremely elastic and tough thermoplastic of excellent clarity and gloss and with little odor. EVA has many attractive properties including low cost, excellent adhesion to many polar and nonporous substrates, good flex-crack and puncture resistance, as well as good hot-tack and heat-sealing.
Warning: Only your home care nurse or persons trained by Fairview Home Infusion may give you IV medicines. If an untrained person gives you IV medicine, this could cause serious problems, including death. Call your nursing service if someone needs training.
TPN bag specification
| | |
| --- | --- |
| Part Name | Total Parenteral Nutrition Bag |
| Material Level | Medical Grade |
| Material | EVA |
| Sterile | Yes |
| UV | No |
| Certificate | CE |
| Brand | Huali or Neutral |
| Origin | China |
Service
1.Samples free offered
2.OEM service offered.
3.Latex free available
4.Product Structure:bag body, pressure-sensitive adhesive, barrier paper;
5. Easy to read scale for quick determination of unine volume;
6.Supplied in individual peelable polybag or blister pack sterile

Advantage

1. Low MOQ, fit for various procures
2. Accept OEM or ODM design, offer characteristic service for your parts and your packages.
3. Friendly service, offer a series of services, instead of selling products only
4. Good quality, strong manufacturing capacity with Certificate proof
5. Better Offer, flexible sales scheme waiting for you.
6. Quick production as customers require.
7. Durable material can meet your requirement efficiently.
8. Competitive price can help for your promotion bussiness very well.
9. Strict quality control before shipment.
10. After-sale service :We special focus on after-sale service.
11. Independent Moldmaking and design, realize you own idea on the parts.