What is TPN bag?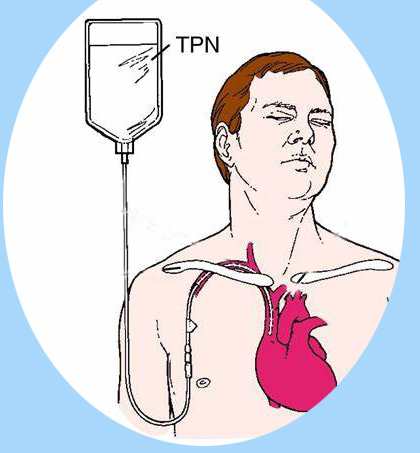 TPN bag (abbreviation of total parenteral nutrition bag) is a device supply all nessary nutritions from the outside of the body bypassing personal digestive system into a person, who cannot use his own digestive system to absorb nutrition and support its living energy supplies.
Patients who cannot consume enough nutrients or who cannot eat at all due to an illness, surgery, or accident, can be fed through an intravenous line or tube. An IV can be used for as little as a few hours, to provide fluids to a patient during a short surgical procedure, or to rehydrate a patient after a viral illness.
Patients with more serious and long term illnesses and conditions may require months or even years of intravenous therapy to meet their nutritional needs. These patients may require a central venous access port. A specialized Catheter (Silastic Broviac or Hickman) is inserted beneath the skin and positioned below the collarbone. Fluids can then be injected directly into the bloodstream for long periods of time. X rays are taken to ensure that the permanent catheter is properly positioned.
Huali Technology Co., Ltd
Business Type:Distributor/Wholesaler , Manufacturer , Other , Retailer , Service , Trade Company , Agent
Product Range:Physical Therapy Equipments , Medical Ultrasound Instruments , Other Medical Comsumables
Products/Service:Urine drainage bag , Surgical drain , Syringe infusion set , Catheter , Disinfectant , Sourcing
Certificate:ISO13485 , ISO9001 , CE , MSDS , Test Report , GMP , RoHS
Company Address:No.666 Chaoqun street High tech area, Changchun, Jilin, China


Previous: What is PC (material)?